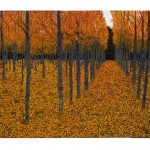 Nature – Her Trees, Her Horizons, Her Mysteries
Lis Smith, American/Belgian, graduated with Distinction from the Academie de Beaux-Arts de Watermael-Boitsfort in 2000.
To better situate herself in the midst of vast spaces, understand and grasp them, she paints a series of landscapes seen from the sky, mountains and the plains, organic forms, rivers, etc.  The essential element of all of her efforts, the tree, became very quickly her first source of inspiration, constituting the base of all her research, both physically as well as symbolically.  Her primary concern is the creation all around us of a specific atmosphere, through which she can better express her personal ideas and sentiments; the fog & mist, changing light, the dusk and the night are all ambiances which are dear to her. These atmospheres result in figurative works bordering on the surrealist.
Recently she has expanded her interests to include many forms of landscapes and experimenting with portraits, still lifes and varied techniques as the mood/inspiration strikes.
She has participated in over 50 solo & group exhibitions and her paintings are in private collections in Belgium, India, UK, USA, & Germany. Listed in Vol. 3 of the Piron XXth Dictionary of Belgian Artists of the 19th and 20th Centuries and was awarded the Prix de Chantilly 2001, Autumn Salon, Chantilly, France. Painting in permanent collection of Musée de l'Art Spontané, Brussels. Member & past President of Art Perspectives International
elisabeth.smith@skynet.be
,0476-341310