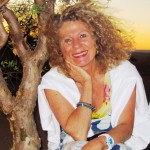 Marcelle Cachécho-Zoghbi was born in Lebanon in a village facing the Mount Sannine.  As a child her eyes were driven from the valley to the Mediterranean, source of dream and inspiration.
She learned to cherish nature, and watched her artist mother mix colours and magically spread  them on canvas .  Every rock had stories to tell and tree leafs whispered in her ears dozens of secrets. Colours, sounds and scents brought out her talent and exploded in various expressions on paper, canvas, stone and clay.
She acquired solid techniques attending various Belgian Art Academies (Boitsfort, Kraainem and Ixelles) in drawing, painting sculpture and sat through Art History classes. She experienced various approaches by joining specialized workshops and several art events. She had many individual and group exhibitions over the last 20 years.